Harry Valentine
Executive Vice President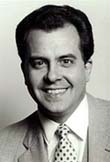 Harry Valentine's 18-year programming and consulting career spans markets including Columbus, Detroit, Miami, Minneapolis, New Orleans, New York, Orlando, and San Francisco and covers stations like WNCI, WIOD, WEZB, WRNO, KNEW, KFRC and WTKS. Valentine has enjoyed success in several formats: CHR, A/C, Country, Adult Standards and Oldies, but in the 90s has focused primarily on FM Talk and Targeted Talk.
Harry Valentine's relationship with Walter Sabo and Sabo Media began in 1987 when Valentine was programming station KFRC in San Francisco. Together, Valentine and Sabo led KFRC through five consecutive up books to become the #2 station 12+, second only to KGO, in a market with 58 stations listed in the Arbitron. KFRC subsequently won the Marconi award for the best station in the format in 1990 and 1991.
Prior to joining Sabo Media in 1998, Valentine programmed several other Sabo-consulted stations including one of the premier FM talk stations in America, Orlando's WTKS, REAL Radio 104.1, now the #1 station in Orlando. Valentine led the initial turnaround of WTKS in 1993-94 and returned to program the station in 1996-97 and remains the only programmer to work there twice.
A graduate of Ohio State University in Business Administration and Marketing, Valentine is excited about the future of talk radio. "For decades our industry has fine tuned music formats to more and more precisely defined market segments, yet in many cities, talk has remained the same for 20 or 30 years. I am amazed that so many broadcasters have missed the opportunity to target their talk station but thrilled at the opportunity this represents."